Shugo Chara! + Xiaolin Showdown is the second crossover created by Caramelangel714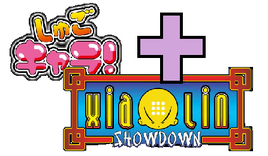 Kukai
receives an urgent message from Master Fung that the Xiaolin Temple, especially parts of China are broken. into a gravitational abyss. Kukai lends to fly on airplane to China, along with stubborn and painful-feeling
Amu
and the Guardians.
Characters
Edit
Seiyo Guardians
Edit
Souma Kukai
Hinamori Amu
Hotori Tadase
Tsukiyomi Ikuto
Hoshina Utau
Sanjou Kairi
Mashiro Rima
Yuiki Yaya
Hiiragi Rikka
Ichinomiya Hikaru
Fujisaki Nagihiko
Omi
Tohomiko Kimiko
Raimundo Pedrosa
Clay Bailey
Ping-Pong
Master Fung
Dojo Kanojocho
Jack Spicer
Tubbimura
Katnappe
Vlad
Shadow
Wuya
Chase Young
Hannibal Roy Bean
Guardian Characters
Edit
Daichi
Ran
Miki
Su
Dia
Yoru
Il
El

Property of Caramel

Shugo Chara! + Xiaolin Showdown is created by Caramelangel714.


I do not allow any renames, offense, and inserts of spoilers in this article. Please make up your decision at your own risk.
Ad blocker interference detected!
Wikia is a free-to-use site that makes money from advertising. We have a modified experience for viewers using ad blockers

Wikia is not accessible if you've made further modifications. Remove the custom ad blocker rule(s) and the page will load as expected.