Dim is Sera's Guardian character.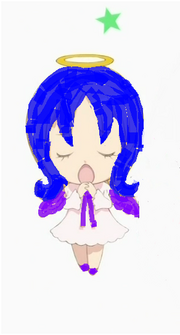 Apperance
Edit
Dim has blue hair,I don't know wat colur are her eyes she has a golden hoop and purple wings.
Amulet Sparkle
Edit
When she does Amulet Sparkle with Sera,Sera's hair stay the same,she wears lilac ballet shoes,Sera wears same dress as Dim but exept it is all purple and Sera gets same wings.
She never opens her eyes.
Then let's get this work done!

-

Tadase

Dim lacks medium-length information or at least one picture.
You can help Shugo chara fanon Wiki by expanding it.

Dim is unusally created with a borrowed character, color over, and videos that are permanently removed by the company's copyrights.


You should help us clear our minds.
Ad blocker interference detected!
Wikia is a free-to-use site that makes money from advertising. We have a modified experience for viewers using ad blockers

Wikia is not accessible if you've made further modifications. Remove the custom ad blocker rule(s) and the page will load as expected.